Newsletter
Beijing
Tel: 010 85325068
Fax: 010 85325078

contact.bj@tavola.cn
Scan our QR code



Check our reviews
Menu
At Tavola Italian Dining...High quality, excellent service and raffinated atmosphere...a piece of Italy in Beijing! Choose your Tavola and let us delight your Palate with our Proposal...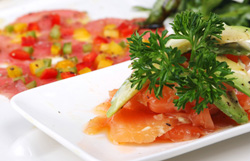 BUSINESS LUNCH SET
Download in PDF
From Mon to Fri, 11:30 - 14:30
Except national holidays
[A]
Antipasti
Primi
Dolce
Caffe o Tea
[4 courses]
[138 RMB net]
[B]
Antipasti
Pizza o Secondi
Dolce
Caffe o Tea
[4 courses]
[188 RMB net]
A large and various selection of traditional and specialty from Italy...


Homemade fresh pasta
Parma & San Daniele Ham
Parmesan and other best cheeses
Boston Lobster
Norway Scampi
Wagyu Kobe beef tenderloin Rossini style.
And a large selection of wood-baked Pizza made by our Pizzaioli following the traditional Napoli's recipe, natural rising, high digestive and cooked with only imported Buffalo cheese and "San Marzano" Tomato!